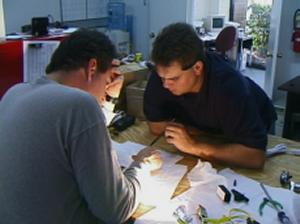 Product distributors are increasingly concerned about selling uncertified products - their liability is simply becoming too great! The product manufacturers are often left in a quandry - what to do? That's where LTG Services comes in.

With over 25 years experience in product compliance safety testing, we can help you get your products to the global marketplace in a timely and cost-effective manner.

If you are having trouble getting your product certified and can't get the necessary help from the certifying agency, we can help you! If you need UL, CUL, Energy Star, CSA, CE, FCC, or VCCI marks, call us today and you are on your way to certification.
Many companies communicate directly with the agencies but upon being told that their product has failed certification they are at a loss as to what they should do next. We not only coach you through the certification process but we also make suggestions as to what should be done early in the process so you get your certification done as quickly as possible. We act as your certification consultant as long as you need us.

As you well know, getting your products to the market in a timely and cost-effective manner is often a key competitive advantage. At LTG Services, we combine our varied industry experience and personal service approach, to enable you to reduce certification lead times and speed your innovative products into the global marketplace. Our staff has experience at nationally recognized testing laboratories. We are also recognized certification agents.
For example, as part of their Client Agent Program (CAP), UL offers Certified Agency status to agents who successfully complete a specifically developed assessment process. These agencies earn an important credential- "UL Certified Agency status." We have earned that status at LTG Services.
We service manufacturers, retailers and distributors - nationally and internationally. These people are concerned with getting their product to market and usually have demanding deadlines and do not know how to obtain the required certification labels they need to sell their product.

In summary, we at LTG Services provide expert services in evaluating and testing your products to national and international standards. We offer competitive pricing, fast turnaround, single point contact and the experience to get your product to the market economically and with minimal or no modifications.
---
Remember, if your product requires any or all of the following certifications, call us first and get the job done right and in time. See our Certification Agencies page.





UL - Underwriters Laboratories
CUL - Canadian Underwriters Laboratories
Energy Star - Energy Efficient Lighting Products
CSA - Canadian Standards Association
CE - European Conformance
FCC - Federal Communications Commission
VCCI - Voluntary Control Council, Inc.



---

To request quotes or other information please contact Patty Barron at (770) 772-4299, by fax at (770) 772-0709, by E-mail at patty@ltgservices.com or complete our request form.
---
Company Locations
See where we are located and how to get there.
---
Compliance Corner
Drop in and read the latest industry news and technical articles pertaining to Electromagnetic Compatibility (EMC), Product Safety and Telecommunications.
---

Please click on the menu buttons on the left for a more in-depth look at our web site. Thank you for your visit.